Your child can start ballroom dancing as early as age 3. We introduce children to various dance tempos (slow and/or fast) & the fundamentals of the basic steps with or without music. During the dance classes we do arm styling, posture, balance exercises. We teach kids how to dance without the aid of the instructor. We do competitions, shows & recitals few times a year.
Dance lessons are a great alternative to the sports, and at Moonlight Ballroom we offer lessons for children as young as three years old. Participating in dance classes can be beneficial for kids of all ages, as dancing is a highly physical activity, and taking dance classes regularly will improve overall physical health.Regular dance practice can increase your child's flexibility, physical strength, and stamina. Specially designed exercises involved in dance can increase balance and coordination, correct poor posture. 
In addition to physical activity, dance lessons can help children improve their social and communication skills, learn how to work as part of a team, and make new friends. If your child is shy, dance can help kid to reach out to other children, and through dance lessons, shows and competitions will help them to be more open in front of people and in new places. Dancing requires practice, discipline and focus, skills that can be useful in other areas of your child's life.
*Private & group ballroom dance lessons are also available.
*All kids' lessons are 45min.
*Our group classes cycle doesn't always match the monthly cycle.
*Our kids group classes are not big, but minimum requirement is 5 children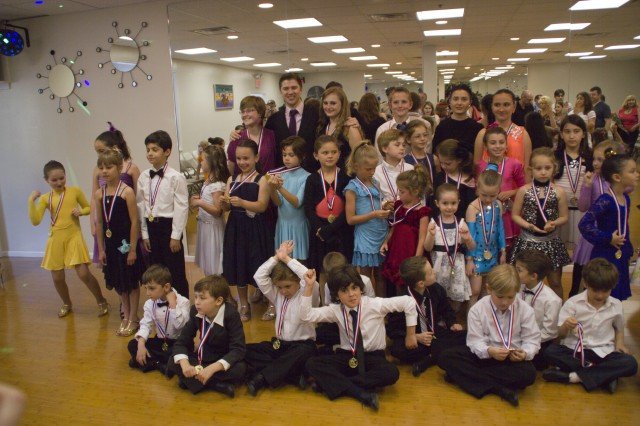 Group lessons are (per child)
Trial session - free
Single session – 20$
1 month – 68$ (once a week, 17$ per session)
3 months – 180$ (once a week, 15$ per session)
1 month – 120$ (twice a week, 15$ per session)
3 months – 336$ (twice a week, 14$ per session)
Private lessons for children are (per couple or single)
1 lesson - 80$
5 lessons – $380 (76$ per lesson, save 20$)
10 lessons – 720$ (72$ per lesson, save 80$)